In Celebration of the Life of
Richard Farmer Hess
(1916-2009)
---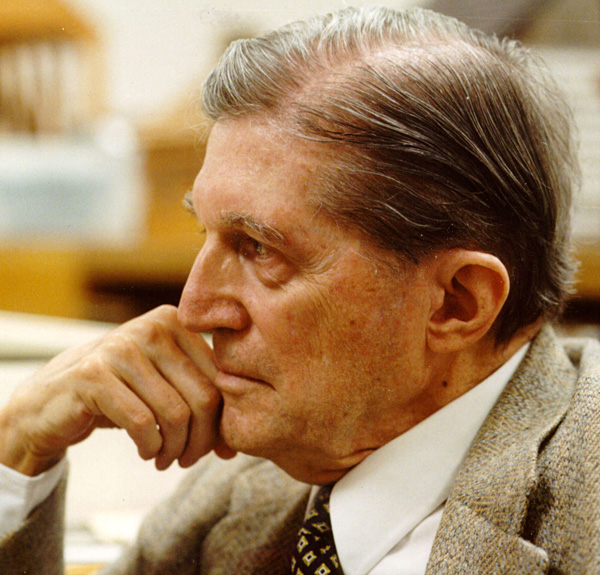 Obituary written by Richard Farmer Hess and Lucille Jay Hess
(scroll down for eulogy by Richard Lowell Hess)
Richard Farmer Hess, 93, retired market research executive, died on June 14, 2009 at the Glen at Willow Valley after a brief illness. He lived at Willow Valley Manor North since 1993.
The son of the late Elam G. and Marcelia Edna Farmer Hess, he was born in Manheim and was baptized and confirmed in the Zion Lutheran Church ("the Red Rose Church"). After graduation from Manheim High School in 1933, he went to Columbia University in New York City. He was a member of the Class of 1937 but economic conditions made it necessary for him to work 40 hours a week and spread his academic training over five years, graduating in 1938.
His professional career began with The Gallup Poll and Benson & Benson in Princeton, New Jersey. He spent 28 years with the Columbia Broadcasting System in New York City where he had managerial responsibilities and directed audience research for the radio network and CBS-owned radio stations. Subsequently at Opinion Research Corporation in Princeton he was vice president for financial marketing, corporate, communications and media research.
Mr. Hess was president of the Grand Jurors Association in Queens County where he lived with his first wife, the late Barbara McCann Hess. He was a trustee and secretary of the board of the Kew-Forest School in Forest Hills, New York; an elder and deacon of the Dutch Reformed Church in Kew Gardens, New York, and founding member and president of the Media Research Directors Association.
With his second wife, journalist and author Jay Harris, he operated his own marketing research firm, Hess/Harris Associates, Inc., in Pound Ridge, New York and later in Somers, New York, retiring in 1984. In Pound Ridge, New York, he joined the Pound Ridge Community Church, sang in its choir for 10 years and was a member of the town's Historical Society. He and his wife moved to nearby Somers, New York in 1979 where he was on the board of Somers Historical Society. He edited Somers Confederates by George Mahoney and was chairman of the publications committee which produced Somers Its People and Places 1788-1988. The Historical Society gave him its Old Bet Award and made him an honorary lifetime member in 1989. During 10 years on the board of Lincoln Hall, an institution for teenage boys adjudged by the New York State Courts to be in need of supervision, he served on its public relations, personnel, scholarship and visitors' committees. He was named by the Patent Trader, a newspaper circulating in Westchester County, New York, as its Volunteer of the Month in February 1990.
A life member of the Sons of the Revolution in the State of New York, he served on its board of managers for 10 years and was a vice president and registrar, as well as chairman of the membership committee. He was editor of the society's newsletter, The Patriot, for 10 years and was given its Distinguished Service Award in 1991. He has also been a member of the Pennsylvania Society of Sons of the Revolution since 1995 and served its Lancaster Chapter as a member of its executive committee and on the special committee which hosted the 1998 General Society board of managers meeting in Lancaster. He served the General Society of Sons of the Revolution as chairman of its publications committee and editor of its newsletter, Drumbeat, and magazine, Flintlock & Powderhorn, from 1985 to 2000. In recognition of this service he was presented with the Patrick Henry Award at the General Society's triennial meeting in New Orleans in 2000. The Richard Farmer Hess Award was also created at that time in his honor to be given to state societies for leadership excellence. Earlier he had received the General President's Commendation Award and was made an honorary vice president for "his editorial and data management services" to the General Society. Mr. Hess was also chairman of the committee which produced Sons of the Revolution: a History 1875-2001 by John Kilbourne. He was made honorary editor for life of the General Society Sons of the Revolution publications.
Mr. Hess was also a member of the Lancaster County Historical Society and the Manheim Historical Society which he addressed in February 1995 on "The Pecan Business in Manheim" operated by his late father. He was elected to the Manheim Central Hall of Fame in 2006.
Survivors include his wife of 34 years, Jay Harris Hess of the home address; a son, Richard Lowell Hess, his wife, Mary Elizabeth, and two grandsons of Aurora, Ontario; two stepdaughters, Carolyn Jay Harris, and her companion, Art Henderson of Redmond, Washington; and Marilee Scott Twine and her husband, Jeffrey, of New York City; a sister, Marcelia Phaneuf of Clearwater, Florida; four step grandchildren and four step great grandchildren. A brother, Donald Farmer Hess of Lancaster, predeceased him.
A memorial service will be held at the convenience of the family. In lieu of flowers, contributions may be made to the Sons of the Revolution, 108 South Liberty Street, Independence, MO 64050-3701 or to the Hospice of Lancaster County, P.O. Box 4125, Lancaster, PA 17604-4125.
Eulogy written by Richard Lowell Hess
delivered at the Memorial Service 2009-06-27
by Pastor Kenneth O'Neal
I knew this day would come—and last year I knew it wasn't too far off. While today could be a day of sadness, it is really a day of great joy as we celebrate the life of a good man, Richard Farmer Hess, my father.
Intermittently for the last ten years, I have been collecting oral history interviews with Dad. In the beginning, it was just Dad and me, but later, as the boys matured, they actively participated in the interview process. My sons and I will always cherish these memories.
Last summer, after our family visit, I sent Dad a thank-you letter for all the gifts he had given me. I felt that waiting for today to say all the nice things I had wanted to say did not let him know how I felt. I wanted him to know. Two weeks ago Friday, when we said our goodbyes to each other, he remembered that letter and told me it was a good one.
I am so glad that I made the rush trip to Lancaster two weeks ago as Dad and I had the opportunity to tell each other how much we loved and respected each other. As I was leaving after he was more sedated, I got to tell him one last time that I loved him and would see him in about thirty to forty years—I hope. He died about twenty-two hours later.
You all have access to the wonderful obituary that Jay and Dad had prepared. It's on the Intel's website, and I have also placed it on my website (richardhess.com) with a much better version of my favourite photo of him from 2000. That obit provides the history, but it merely hints at the loving, generous, and caring character of the man whom we celebrate today.
Dad was very lucky with relationships and, in my earlier years, I was jealous of him, but I, too, now know the joy of a long-lasting, caring, and loving relationship. Dad was fortunate to have sequentially married two wonderful women whom he cared for and who cared for him.
I cannot imagine the pain that he and my Mom went through when they lost their first child at birth. He and my maternal grandmother then cared for me while my Mom had her first bout with breast cancer right after I was born. Dad continued to be the breadwinner throughout this.
The cancer returned when I was in my teens, and Dad stood strong through that, too.
Finally, when my Mom's cancer returned for the final time in the early 1970s, he tended to her while still holding down a job with a horrific commute. To this day, I do not understand how he stood up under the pressure. Mom finally died in early 1975.
Jay and my Mom had gone to high school together and stayed in touch over the years. Jay's first husband, Carl—Carolyn and Scottie's Dad—died a few years before my Mom. Dad had found the second love of his life and Jay has treated him wonderfully for all these years. I credit Jay with Dad living to the ripe old age of ninety-three-and-a-half. In this union, I also found two wonderful and supportive sisters.
Dad was a very patriotic man as evidenced by his support and involvement in the Sons of the Revolution and other community organizations and projects. He relished being involved in good deeds for history and community. It very much fits his personality and interests that he would die on Flag Day.
The one controversy that permeated Dad's and my relationship is a mirror of our ancestors. Our family contains both heroic militia men who put themselves at risk for the fledgling idea that became the United States of America while other stoic ancestors of ours, faithful to their religion, accepted their fines for not joining the militia. Fortunately, even this two-and-a-third-centuries-old dichotomy was something we could rise above in our relationship and, in the end, respect each other's positions.
When I was growing up, Dad was always there for me, and after he and Jay were married, he was still always just a phone call away. When I really needed him, he was there by my side. I would call him to tell him my successes and failures, and ask his input on many things. He always provided sage advice for me—advice rooted in an unswerving faith in God and a desire always to take the high road.
Thank you, Dad, for the many, many gifts that you gave to me and others. I thank you especially for my love of good music and sound, electronics, and photography; and the ability to collect and process data into information. I thank you for providing me with the tools to persevere and succeed—to rise up amid strife and adversity. I also thank you for instilling in me a sense of fairness to, and respect of, all people. Perhaps the most important thing you gave me was an innate sense of the love of God.
Dad, you rose above the difficult parts of your life and gave so much to your family and to the community. We are all better for that. I hope that you are with God in a better place where the frailty of your body is no longer a hindrance to your happiness and comfort. Thank you and goodbye, Dad. I will love you always and may the blessing of our loving God, Father, Son, and Holy Spirit be with you this day and always.
---
Return to home page Return to family page

You can e-mail Richard at richard@richardhess.com
©2009 Richard L. Hess All Rights Reserved