In Memoriam
Mary Margaret Adele Webster McIntyre
(1916-2000)
---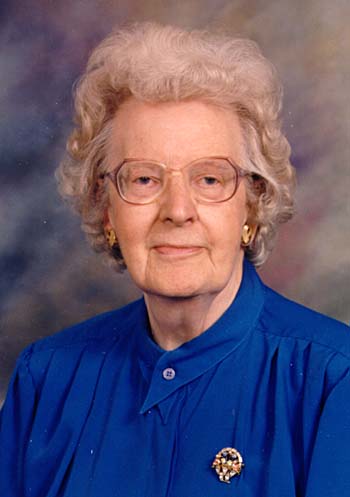 Mary Margaret Adele Webster McIntyre passed away peacefully at King City Lodge on December 28, following a lengthy illness.

Born on December 22, 1916, Margaret was the daughter of the late Charles Webster and Della Alberta Petch and a lifelong resident of Aurora, Ontario. She attended school in Aurora and later graduated from MacDonald Institute in Guelph and Shaw Business College in Toronto. After graduation, she worked for the Ontario Ministry of Agriculture. She married William Ogilvie McIntyre on December 18, 1950, at St. Andrew's College Chapel in Aurora.

In later years, she became an active member of the Aurora Historical Society and the Aurora Public School Reunion Committee. Her dear husband Bill died in 1974. Her only sister, Elinor Elizabeth Webster Steels, died in 1985.

She is missed by her daughter Mary Beth, son-in-law Richard, and grandsons Robert and Michael Hess; by her son John; by her niece Catherine Joyce and Catherine's husband Theo; by her nephews Gordon, Robert, and Ian McIntyre and their families; by her many great-nieces and nephews; and by her many friends.

Special thanks go to her friend Lise Preston, Father Alan Ferguson of Trinity Anglican Church, and to the doctors and staff at York County Hospital and King City Lodge.
In her memory, donations may be made to
The Aurora Historical Society
22 Church Street
Aurora, Ontario
L4G 1G4
CANADA
---
Return to home page             Return to family page

You can e-mail Richard at richard@richardhess.com
©2001 Richard L. Hess All Rights Reserved