Richard L. Hess
Family Travel Page
Return to home page
Return to family page
---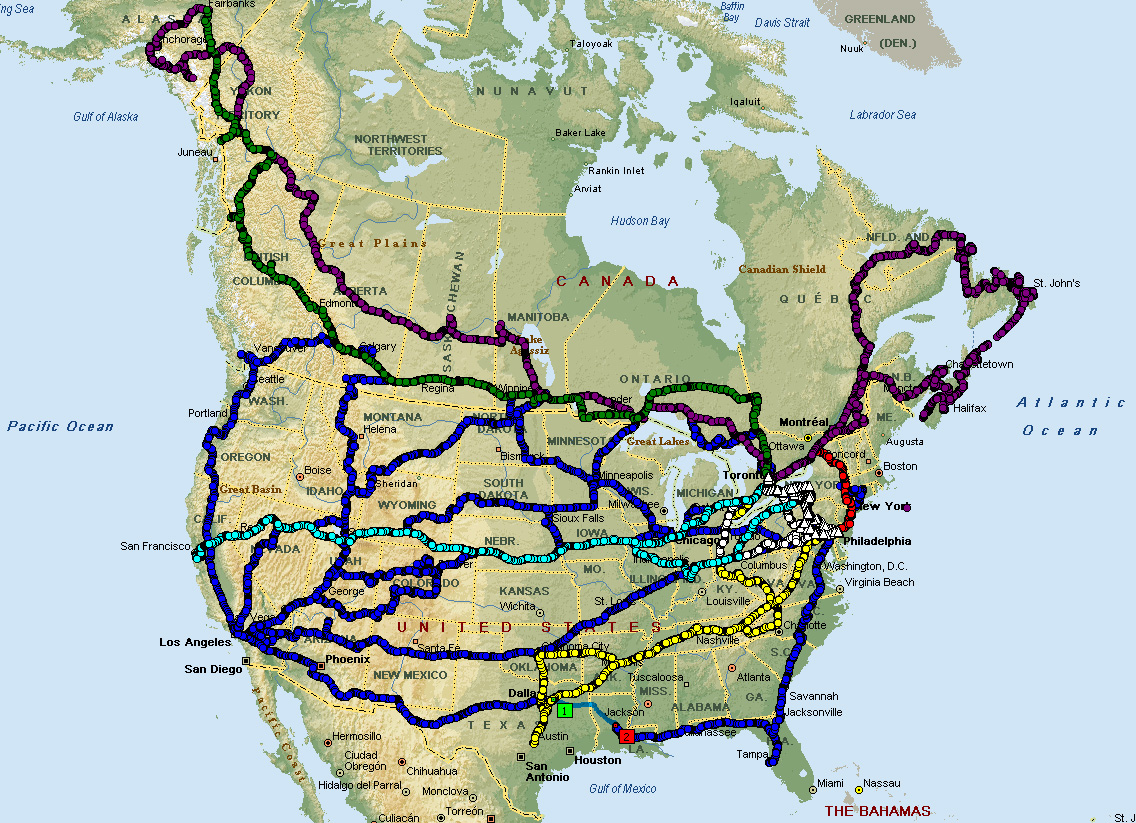 Until 1993 when we finally had our first son (we now have two, 13 months apart), my wife and I tried to take a major trip every year. We had many small trips to the Mojave Desert and other local areas, and one of our favorite getaway spots continues to be Cambria, California.
1983 - Our Honeymoon through England and Scotland.
The following trips started/ended in Glendale California, and are all driving trips unless otherwise noted.
1986 - Crater Lake, Oregon Coast, Olympic Peninsula, Expo 86 in Vancouver, Jasper, Icefields Parkway, Fort Steeles, Crows Nest Pass, Waterton/Glacier International Peace Park, Yellowstone, Grand Tetons, Salt Lake City, Bryce Canyon, Zion Canyon and home.


1987 - North Eastern California, including Mount Lassen and Lava Tubes, Yosemite


1988 - A relaxing, more luxurious trip including stays at Ventana Inn in the Big Sur area and the Ahwahnee Lodge in Yosemite


1989 - Our first Alaskan adventure. A drive via the Cassiar highway and Top Of The World highway to Faribanks, flight to Nome and Prudhoe Bay, a day's bus trip into Denali Park. We drove across the White Pass to Skagway, took the Alaska Marine Highway to Juneau, flew to Gustavus/Glacier Bay, took a day cruise of Glacier Bay, flew back to Juneau, took the ferry to Prince Rupert and drove home.


1990 - Two trips: We went to Florida in July and photographed birds at Ding Darling National Wildlife Refuge and Eco Pond (see photo) in the Everglades. We also drove out to Key West and back. We decided that we had received so much heat and humidity we had to balance our heat/humidity exposure for the year, so we flew Thanksgiving week in Haines, Alaska photographing bald eagles. We also flew to Anchorage and Fairbanks (where the temperature was -40!).


1991 - In June, we flew to Paris and drove through northern France, including Chartres Cathedral, Mont Ste. Michele, Riems, Beauvais, and other cathedrals. We then spent a day in Germany and about a half week in Switzerland including taking cable cars up an Alp and looking at a waterfall inside the valley wall of the Lauterbruner valley. We drove the Furka Pass. Mary Beth returned from Zurich, and I spent another two weeks on business in Israel and Morocco.


1992 - This year we won the lottery to see the bears at McNeil River bear sanctuary. Here is a picture of some bears from McNeil. It was a wonderful trip. We drove the Top Of The World Highway again, and drove the Dempster Highway as far as the MacKenzie River. We returned via McCarthy/Kennicott and took a cruise into Prince William Sound and the Columbia Glacier. We took the Alaska Marine Highway from Valdez to Whittier and flew out of Anchorage.


1993 - We took a restful drive at low altitudes up the northern coast of California. Mary Beth was pregnant with Robert.


1994 - Saw only local trips and another pregnancy.




1995 - We were very brave/foolish but wanted to show our two babies off to family. We drove to Lancaster PA to see Richard's family and Aurora Ontario to see Mary Beth's family. We stopped and visited with many family members along the way. With the boys I'm not as busy taking pictures as I once was, but here is one from this trip. We also flew back to Aurora, Ontario for Christmas.


1996 - We flew to Aurora, Ontario for Christmas.


1997 - Cambria via the Live Oak Folk Festival in mid-June. Christmas in Aurora, Ontario.


1998 - Christmas in Aurora, Ontario.


1999 - Richard's 30th High School Reunion in New York City and a visit to Aurora in June. A drive to Aurora in August via Gabriola Island, Vancouver, the Royal Tyrrell Dinosaur Museum near Drumheller, Alberta, Richard's folks in Pennsylvania, and the Eaglewood Folk Festival near Lake Simcoe. Christmas in Aurora, Ontario.


2000 - Cambria via the Live Oak Folk Festival in mid-June. On the July 4th weekend, we drove to Aurora. Richard flew back to LA on July 4th. Mary Beth's Mom got sick. Richard flew up to Aurora in mid-August and took the boys to see his Dad in Pennsylvania. We then all drove back to LA on the Labor Day weekend. Christmas in Aurora, Ontario. Mary Beth's Mom died right after Christmas and we attended the funeral before flying back to LA.


2001 - We drove to Aurora Ontario via Clearwater, Florida. We were very glad we took this side trip as we saw several of Richard's cousins and saw Richard's Uncle Gerry for what turned out to be the last time. We visited with friends and family along the way. More in the 2001 Christmas letter.


2002 - We drove to Carman, Manitoba, Canada for a McIntyre family reunion. We drove north through the Owens Valley and stopped at the Laws, CA, Railroad Museum. We then drove on back and dirt roads (including part of the original and historic first transcontinental railroad grade) to the Golden Spike Historic Site near Promentory, Utah. From there, we drove north stopping at the Berkeley Pit Anaconda Copper Mine in Butte, Montana, and learned that they are working to stabilize and rehabilitate the area.

Our next stop was the Smokejumpers' Museum in Missoula, Montana. We spent much of the next day driving through Glacier National Park, had lunch at the Prince of Wales Hotel in Waterton Park in Alberta, drove through Pincher Creek, and visited the Frank Slide.

On the way to Carman, we visited the Royal Canadian Mounted Police museum and had dinner with some audio friends of Richard's in Regina and stopped at the Elkhorn Auto Museum in western Manitoba.

We visited Winnipeg and got to see the old church where Mary Beth's grandfather preached for a while. There were several wonderful meals at Robert McIntyre's farm in Carman as part of the reunion. Over 100 people were there!

From Carman we drove back to the U.S. and the border crossing was the most annoying we've ever had. Richard had to pull everything out of the rear of the Suburban just so the officer (who was very nice) could say that he had done several of this type of inspection and satisfy the paperwork!

We drove the Beartooth Scenic highway into Yellowstone Park. This highway rises to over 11,000 feet and is extremely scenic, rivaling the drive through Rocky Mountain National Park in Colorado.

Yellowstone is a gem, but, of course, was very crowded in late July. We drove into Teton National Park and stayed in Teton Village.

From there we drove to Salt Lake City and saw the Museum of Ancient Life which the boys enjoyed, but Mary Beth and Richard thought the Royal Tyrrell Dinosaur Museum in Drumheller, Alberta (which we saw in 1999) was much better done. We also saw the Kennecott Bingham Canyon Open Pit Copper Mine which makes the Berkeley Pit look small! On our arrival into Salt Lake, we were greeted by one of the worst thunder/wind storms the area had seen in several years!

We drove home from Salt Lake City in one day again with much better results than 2000's traffic jam and rainstorm in the desert!

All in all, this was a very enjoyable trip.


2003 - Another driving trip from Glendale to Aurora and back. This was the first trip with the digital SLR and we have a few pictures online. I had an inkling that what happened in 2004 might happen sometime, so we focused on more points-of-interest on this trip than some of the previous ones. Our outbound trip started in a huge traffic jam on I-15 so we wound around through the Mojave desert and still made it to the Grand Canyon before sunset. We then visited the Arizona Meteor Crater, Petrified Forest/Painted Desert and Cadillac Ranch. We then high-tailed it to Lancaster PA and I got to spend an extra day with my Dad that had not been planned. From there, we headed up to Aurora, via Niagara Falls.

In the middle of this trip, I flew to Connecticut to work on a project near Hartford for three weeks. I managed to spend a weekend visiting my stepsister and her husband at their rustic cabin SW of Albany, NY. I worked the other weekend, but that helped pay for the 80-400VR Nikon Zoom!

We wanted to try a new route home, so we went south by going north, up to Temagami to see the big trees then to Sudbury, Eliot Lake, Sault Ste. Marie (where we took in the bush aviation museum which the kids really enjoyed). We then drove the north shore of Lake Superior and had wonderful weather around Wawa. If you haven't taken that drive, it's worth it. We headed for Minneapolis where we visited the Pavek Museum of Broadcasting and friend Joe Dundovic.

From Minneapolis, we headed to Omaha, following part of the Lewis and Clark route.

We were hoping for a new route across the Rockies as we had done I70 and I80 several times and also the route past Mount Rushmore. We decided to visit the Royal Gorge of the Arkanasas River in SW Colorado, then the Black Canyon of the Gunnison. We drove from Silverton to Durango, which was magnificent with a few exciting sets of hairpin turns. Not quite Furka Pass quality (see 1991, above). We saw Mesa Verde, Shiprock, and the Glen Canyon dam at Page, Arizona. We returned via Zion National Park.


2004 - Surprise! We moved! We made two trips this year, one in each Suburban, one in early July and one in late August, from Glendale to Aurora. Both trips were via the I-70 route through Sarnia, ON. On the July trip we stopped at Hoover Dam and it was 115F in the parking lot.

In early November, Richard drove to New Jersey, saw his Dad in Pennsylvania, and back to New Jersey and home to Aurora. The two different stops in NJ were to pick up equipment.


2005 - In late March and early April, Richard drove by himself from Aurora to Austin, Texas, for the Association of Recorded Sound Collections (aka ARSC) conference. Richard is on the Technical Committee. On the way to his Dad, he visited the ruins of the Kinzua Viaduct and dropped off some equipment in Harrisburg. He saw his Dad, then drove down I-81 and I-40 to Nashville and visited a tape recorder collector there. From Austin, he drove to Oklahoma City to pick up some equipment for his business and then to Hickory, NC for some more equipment. He visited another tape recorder collector outside of Cincinnati, picked up one last piece of equipment and then drove home.

In late July, the whole family went on an equipment pickup mission to New York City, and New Jersey and also visited Richard's Dad once again.


2006 - In January we visited Jay and Dick in Lancaster, PA to help celebrate Dick's (Richard's Dad's) 90th birthday. We visited again in August and then toured the Horseshoe Curve, Johnstown (scene of major flooding) and then to Dayton to Wright-Patterson Air Force Museum. From Dayton we went to Sarnia to spend some time with family.

In October, Richard drove to San Francisco to deliver a paper on Tape Degradation at the Audio Engineering Society conference. It was mostly I-80 both ways.


2007 - We had an exciting trip to Fairbanks, Alaska, by car. Details are in our Christmas letter and the route map and photos are in the photo gallery.


2010 We had another "Hess Adventure", touring all of the Canadian Maritime Provinces.
A detailed trip report with photos is available here
Adobe Acrobat (5850K).
Here is our most recently updated trip map: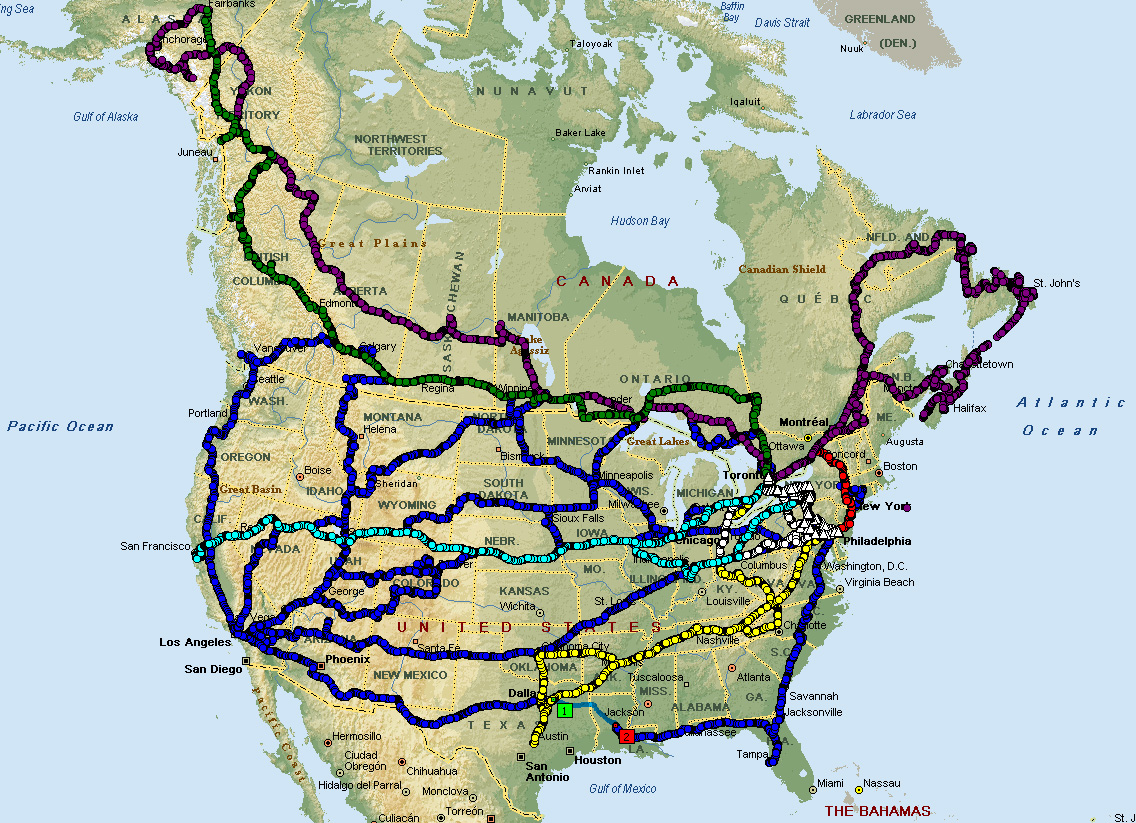 If anyone wants to talk about these or other travel destinations, drop me an e-mail.
---
Return to home page
Return to family page

You can e-mail Richard at richard@richardhess.com

©1997-2010 Richard L. Hess All Rights Reserved